Let Us Manage Your Outsourced IT Support Needs
Sovratec IT support services are tailored to your business needs. Our IT support specialists align network architecture and end-to-end communication, to ensure your company has the best IT solutions built by certified technology experts. We provide small, midsize, and enterprise size businesses with scalable IT support both onsite and remotely.
T Infrastructure Help Desk Management- 24/7
Our developers provide IT help desk services that enable the creation and management of onsite and remote help desk architectures. We provide a 24/7 single point of contact for your business user community to address all technical requests, problems, services, and other IT inquiries.
Network Support Services
We perform network support services, including network design and architecture planning, network audits and ongoing support for TCP/IP setup, Virtual Private Networks (VPN), Storage Area Networks (SAN), LAN/WAN and media integrations, managed IT services, as well as administration and troubleshooting of network devices like routers, gateways, and firewalls.
Enterprise IT Services
Our custom enterprise IT infrastructures streamline the administration of day-to-day user management, access, and security protocols and other enterprise IT services. We also perform various database services, large-scale data migrations, backup and recovery, server configuration, and network administration tasks.
Business IT Services
We build and maintain IT infrastructure for small and midsize businesses (SMB). We provide end-to-end communication architecture built on reliable technology platforms such as e-mail based messaging and live meetings that allows real-time communication and data sharing. We supply intranet/extranet services, unified messaging, document sharing, and video conferencing that facilitate in-person or remote communication.
Customized Business IT Support Services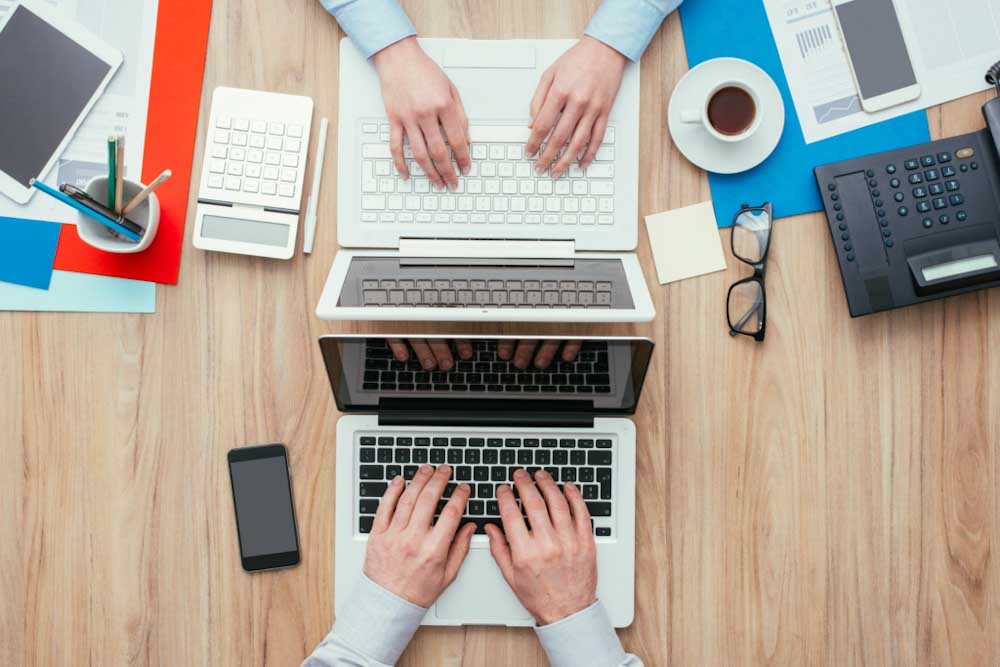 We work with many types of IT customers with unique service needs. We craft an IT support plan for each customer to help them get the best value and strategically select their services.
Maintenance
Sovratec deploys well-established backup and recovery solutions for a wide variety of enterprise infrastructures, ensuring robust, scalable, and vigorously maintained data safeguards. We manage all updates including software, antivirus, security, and monitoring for you.
Security and Compliance
We provide comprehensive protection from cyber-attacks. We defend your business from malware, hackers, viruses, and human error. Our team implements Backup-as-a-Service (BaaS) and disaster recovery solutions that automate full, incremental, differential, mirror, and continuous backups for large datasets.
IT Systems Analysis
We maintain detailed documentation and analysis of your systems and have regular virtual meetings to keep you up to date. We run deep analysis to provide you with a managed services strategy, crowning in a fully customized plan that fully meets your business' needs.
Customized Business IT
We develop a support plan to meet each client's IT needs to help them get the best value and strategically select their services. We work with many types of IT customers with unique business models and needs. We provide system monitoring and optimization utilizing customized tools to resolve complex technical issues.
Application Development and Support
Sovratec has a deep talent pool of industry-specific technology experts, ready to provide you with the custom application development services you need. Our cloud development teams are well-versed in web protocols like SOAP, REST, and XHTML and are experts in Cloud Architecture, Cloud Deployment, Cloud Maintenance, Cloud Services, and Cloud Migration.
Documentation and Inventory Support
We create detailed documentation of our client's entire IT infrastructure, allowing us to remedy issues quickly and manage any technological hiccups that may occur. We provide development of custom Information Technology software that allows for cloud-based multi-point access, workflow automation, up-to-date security, and adheres to industry best practices and standards.
Remote & Reliable: 24-hour SLA Management (IT Support)
Sovratec offers the best IT Support to meet your contracted Service Level Agreements (SLA). We guarantee your SLA compliance from downtime through our speedy recoveries using best practice protocols. We combine industry talent and up-to-date technology to ensure optimal monitoring, reporting and management of your SLA services. Clients want seamless uptime and 24-hour support. We are individuals with the expertise to meet their expectations and exceed yours!
SLA Incident Management Services
Our developers offer incident management services that capture incident-based knowledge gained in the issue resolution for future use, automate IT asset discovery and reporting, and intuitively report and track technical performances and ticket statuses.
SLA Monitoring Support Services
Sovratec's SLA support involves specialists who provide tiered-level, global support with round the clock attention to critical issues/incidents, as well as state-of-the-art infrastructure with guaranteed SLA compliance. Our support is highly scalable, enabling future enhancements to be easily implemented.
SLA Reporting Services
Our comprehensive SLA reporting software includes features that enable processes such as root-cause analysis, request/problem management, incident processing and management, patch deployment, interaction and trouble shooting.